How to Build a Diet and Nutrition App from Scratch: Must have Features with API and Useful Development Tips
May
10
May 10, 2019
The arrival of technology has made our generation sedentary. Due to technology, the amount of physical work has almost diminished which is the root cause of various problems. According to a new study around 30% of world's population is overweight or obese. The health consequences of overweight and obesity contribute to an estimated 4 million deaths (7.1% of all deaths) and 120 million healthy years of life lost (disability-adjusted life years or DALYs)2 across the global population (4.9% of all DALYs among adults)3.

These stats show that we are living in the dark times and the agenda of Health & Fitness is in desperate need of a push. Wellness and healthy lifestyles have become mainstream today. You can see this push in the form of increasing number of Gyms, Health & Wellness Centers and Nutrition Centres across the world. Gym have been a huge success. However, everybody doesn't have the time to join the gym. Interest in fitness applications and revenue from them grow as fast as the number of people striving to be fit.

According to a Statista survey conducted in 2017, 26 percent of respondents aged 18 to 29 regularly used diet and nutrition apps to track their nutrition. They assist the users to follow a proper diet and to keep a check on their calories intake.

To take the full advantage of the situation mobile app development firms have started to build Health & Fitness Apps. Some apps are already doing well; however, there are so many opportunities left for you to explore.

So, if you're in Health & Fitness Professionals who is looking to develop their own branded a Health & Fitness App, then this article will provide you with a complete guide and professional's tips on how to do it.

Let us discover the core features of a nutrition app and the efficient ways to overtake the leaders in the health & fitness app market :

1. Calorie Counter
Calorie counters or diet trackers are probably the most popular type of nutrition app. These apps work in a quite simple way: first, a user sets a goal, which is usually their weight. After that, they log information about their activities and the food they eat, and the app calculates the calories they've consumed and burnt in a day, which is the main objective of such apps.
According to goals and calorie data, these applications can analyze users' progress and send them notifications with dietary recommendations or reminders.
2. Meal planning
These types of apps are different from the former ones as they monitor the calorie intake of their users even before they eat. Users can choose their weight goals, diet, and food preferences. On the basis of this information, an app generates a detailed diet program for a day, week, or month. Users can choose recipes from the app's recipe book or add their own.
3. Marketplace (Social Platform) Apps
This is a social app which connects users with diet & nutrient coaches. These coaches provide them with dietary recommendations and professional tips. In such app user pays to the diet coaches and experts so that they can guide them to follow a strict diet regime and track their progress.
4. Health, Wellness & Fitness app niche audience
Instead of making an application for every user, you can narrow your target audience and develop an app for target audiences, which helps you create a pregnancy nutrition app, obesity nutrition app, diabetes nutrition app which will help people with diabetes keep an eye on their blood sugar levels.
5. Wager apps
Money is by far the biggest motivation. Why not lose weight and be paid for it? Another interesting idea is a betting app. In such an application, a person bets a certain amount of money that they'll lose a certain amount of weight within a certain amount of time. If they lose that much weight, achieve their goal and prove it, then they get their money back.
6. Must-have features of a Diet & Nutrition App

6.1 Registration and personal accounts :
Personalization is a key benefit of every diet and nutrition app. Whenever you enroll in any gym or nutrition centre, the first thing they do is the registration. Similarly the first and foremost aim of a Nutrition app should be to gather and analyze user data: age, weight, height, food preferences, preferred diet, allergies, goals, desired weight, level of activity, and many more. Moreover, there must be a sign-up option via email, Facebook, Twitter, or manually.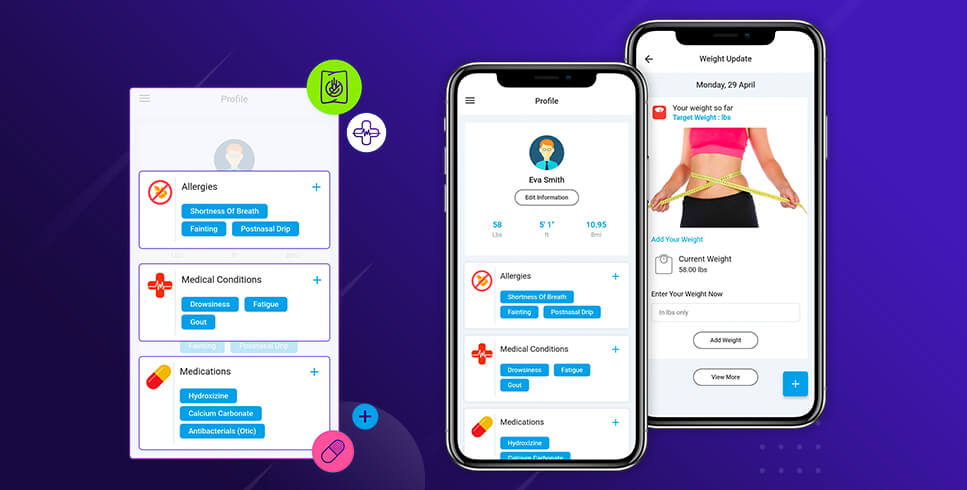 6.2 Dashboard and food logging :
A top-notch tracking app should consist of a huge food dictionary, a diary, and some input fields. This feature can make or break your app. After registration, the first thing your user should encounter is a screen or dashboard where the user can find all the information such as calorie intake, his/her progress, input fields to log activities and various nutritional tips.

Think through ingredients that should be available offline. But food logging is nothing without a dashboard that contains the most important information about the user's progress and useful nutrition tips. The perfect dashboard should be visually appealing and interactive, contain only the most essential information.
6.3 Push notifications :
Almost every app has push notifications since they're a powerful tool for increasing user engagement and retention - an important element of any mobile app. However, you must understand the essence of it and realize how you can utilize it for a diet and nutrition app development?

First, they motivate users to keep going by sending calls to action or information about their daily workout sessions or meals. Second, push notifications show your concern for each user, reminding them about current goals. Finally, push notifications cause users to see your app as more than a place where they can log what they eat, instead of seeing it as a useful assistant that helps them reach their fitness goals.

Think carefully about the frequency of notifications and don't make them annoying. Otherwise, this annoyance could result in him/her uninstalling your app.

6.4 Integration with fitness trackers :
Fitness Trackers or Wearables have emerged as a global trend for all the fitness enthusiasts. According to Statista Consumer Surveys, 30 percent of U.S. consumers owned a fitness band, and, 44 percent of U.S. consumers used their sport and fitness gadgets daily.

That's why it's so important to add fitness & activity tracker support, to monitor and track health-related metrics such as distance walked or ran, heart rate, calorie consumption, and quality of sleep, especially when the primary goal of your app is to count calories. Without a tracker, users need to manually fill the data which would be both tiring and inaccurate. With tracker support, information about some types of activities (jogging, cycling, etc.) can be added automatically. In addition, your app can get health data such as blood pressure and heart rate.

Your application must have a feature for integration of as many wearables or fitness trackers as possible.

7. Support
You must build a kind of trust that you're always with them no matter what, as mobile apps can be complicated at times. You must have support sections which must include all the FAQs along with a tutorial video which would act as a user manual. You can add a chat service too in case, a user still has some questions.


8. Feedback
To receive feedback from your users is the way to improve and to make your app smoother. Feedback section is a must for any mobile apps and Diet & Nutrition App is no exception. The users can help you identify some loopholes if any. Moreover, they can suggest you some features which would they like to have on the app.

9. Additional features of a Diet & Nutrition App
All the features we've mentioned are ideal if you want to create an MVP in order to test your business idea and attract users' attention to your startup. To enhance your application, you can implement the following features:

9.1 Diet plan or user's goals :
One of the most basic functions of such diet & nutrition app is to guide its users towards a healthy diet and assist them to achieve their goals. So, once your user specifies the goal like desired weight, body type, and preferred food, your app must suggest them with a proper dietary information.

The diet must include all the elements which match the user's preferences. Ensure that this feature of your app has a high effectiveness as it is the most basic function.

9.2 Dietary Recommendations :
If you want your mobile application to be even more useful, add personalized dietary recommendations. To generate suggestions, your app should primarily analyze a user's healthy eating habits and goals. Another solution is to add a live chat feature where users can connect with nutritionists.
9.3 Healthy Food Search :
It can be time-consuming to cook healthy meals. That's not a problem since your diet app can help users find healthy meals from local restaurants. When a user has no time for cooking dinner, they can order healthy food in a few taps. Such app has the fullest nutrition data about items in the menu and an allows users to rate restaurants. On the basis of a user's location and food preferences, this application finds the nearest restaurants with healthy food. It shows not only the locations of restaurants but also their prices and detailed nutrition information about every item on the menu.

9.4 Strong Community :
It's inspiring when users know that there are other people who can accompany them on their dieting journey to follow a strict diet regime and track their progress. A blog is a great opportunity to share useful information about fitness and dieting within your app. Social sharing, as well as a forum, will enable users to share their thoughts, goals, and experiences with each other.

9.5 Recipe Book :
A recipe book is another feature that can be a win-win for both users and app owner. Add a section with healthy recipes and let users add their own recipes. Even voice instructions and video tutorials in their health & fitness application can be implemented.

9.6 Shopping List :
This function is enormously connected with recipes. When a user chooses a recipe, ingredients can automatically be added to their shopping list. Or users can add ingredients by themselves.

If you want to know how much does it cost to develop a diet app that will meet users' needs, contact us. We'll do our best to turn your ideas into reality.

It's obvious that you want to go with the best platform which provide all above features a nutrition software must have with a minimum cost without compromising on the quality. SimplyLoose comprises of all features discussed above and combined with all the aspects of a health and fitness platform developed with cutting-edge technology who would deliver all your requirements.

SimplyLoose is the IoT based B2B Digital Health & Fitness Mobile Cloud APP Builder Platform for Health & Fitness Experts to better connect to their customers when training them online or in-person. Where clients can sync all there daily activities using the Smart Devices or log it manually. It's a simple yet powerful solutions that are built to grow and manage your practice business. Manage your business efficiently, engage with customers to offer them an elite experience, or expand your visibility online.
Get your own FREE white label Mobile App for both professionals and their clients with your colors and logo to increase customer loyalty and retention. We incorporate your logos, colours and the look and feel of your business into your app.


SimplyLoose is the best platform for Nutritionists/Dietitians, where they can search foods and nutritional information (e.g. Calories, macro/micro nutrients, etc) in a database to create diet plans or recipes. SimplyLoose gives you the nutrient breakdown so you can check if the meal plan meets your clients' requirements. It's quite awesome. Build and deliver customised diet plans with comprehensive nutritional information to your customers for online and in-person fitness training and keep track of their calorie intake and progress. The best part is that you can create several templates (unlimited number) to speed up your consults and then just make few adjustments so you can adapt it to different clients. Engage customers to keep up-to-date on their diet to achieve desired fitness goal.

- Build & deliver customised Diet Plans with comprehensive nutritional information.
- Get nutritional analysis for your diet plan automatically.

Your customers will get customised diet and workout plans suited to their tastes and activity levels which is never too difficult to follow. Automated mobile app notifications provide them reminders for their scheduled diet to keep them engaged. While your SimplyLoose branded app will allow your customers to keep a tab on their lifestyle by logging their food, activity, water, weight, sleep and steps on a daily basis on the go. Clients can track workouts, nutrition, fitness targets over time for body measurements and milestones to monitor their overall improvement.

IoT based Nutrition Software with a powerful solutions at an affordable price and comes with a 30-days FREE trial!
---
Be a part of the Health and Fitness Social Network Community
Join us in our journey of bringing revolution in healthy lifestyle.